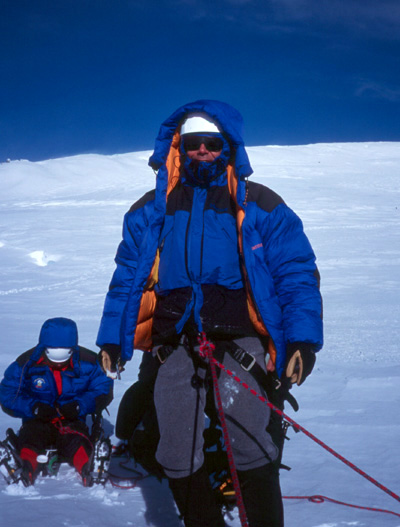 In the crater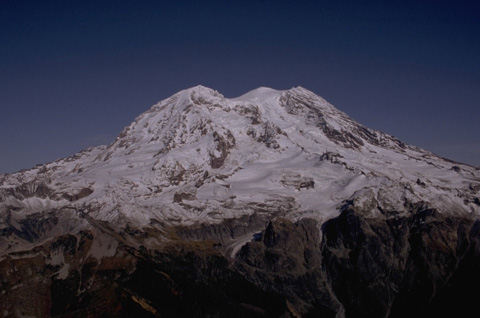 Mount Rainier in 1992
(Satomi took this picture from the open window of a Cessna at 7000 feet)
I've been in awe of "The Mountain" (as it's called here, as in, "how's the weather, is the mountain out?") for pretty much all of my life. I've hiked and snowshoed near it a few times, but until this past weekend had never actually set foot on it -- unless strolling up the paths around Paradise Lodge counts for anything.
Once, when I was seventeen, I drove down to Mount Rainier National Park in my battered 1960 Chevy, camped for a night at Ipsut Creek, then hiked eight miles up a trail to Mystic Lake, which sits in a high meadow on a hill directly across from Rainier's frightful northern face, a huge vertical slab of ice called Willis Wall. I remember sitting on a ridge with my pack, looking at the mountain and seeing avalanches drift slowly down.
That night, in 1978, I pitched my tent on another ridge nearby and learned firsthand about the terrific winds that the mountain can generate. It was sometime near midnight, the clouds had blown in and it was raining and cold, and cyclones were being tossed at me (as I later understood) by the mountain itself. After a tortured and sleepless two hours lying spread-eagled on the floor of the tent (which had no stakes) I finally made a decision, took advantage of a lull between blasts and took apart the tent, stuffing it and everything else into my backpack. I stumbled in the weak light of my little flashlight down the trail until I found a small ranger's cabin (locked and uninhabited) where I finally fell asleep on the porch in my half-soaked sleeping bag. Some lessons were learned on that trip, but I was impressed enough with that particular place to go back twice more in the year that followed, to sit on that same ridge and watch the avalaches drifting down.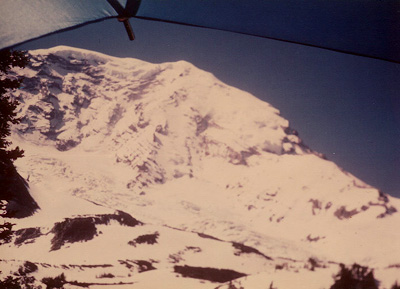 The view from my tent on a later trip, in 1978 or 1979
Later on I chose to use Mount Rainier as the logo for my company, Accolade Design Automation. I had a graphic artist render a photo that Satomi had taken (shown above) into a design that looked like this: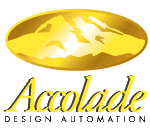 All this prelude is simply to say that I've had an interest in Mount Rainier for quite a long time. It's always been there, and I've always wanted to try climbing it. (Everyone else seemed to have done it.) So like thousands of others do each year, I finally took the initiative and signed up for climb with Rainier Mountaineering, the guide service founded by Lou Whittaker over thirty years ago.
Although this was a guided climb, I'm sure I was better prepared for it than I was for that hike back in 1978. I've never been good about exercise but I spent my mornings in Australia running barefoot on the beach to improve my stamina (and toughen up my feet, which in retrospect I think helped to avoid foot problems). After returning from Australia in April I started going on hikes, mostly up Mt. Si and other steep trails within easy driving distance. I also started going to a health club and working on a treadmill, typically doing four miles at the fastest pace I could walk (four miles per hour) and at the steepest incline the machines would go (ten or twelve degrees).
But still I was worried; the information packet from Rainier Mountaineering (RMI) described going up Rainier -- even by its easiest routes -- as the most difficult endurance climb in the lower 48 states. It warned that climbers should strive to be in the best condition of their lives before attempting it. Perhaps I was in the best condition of my life, but given my historic lack of athleticism I wasn't sure that was going to be enough.
Bjorn was on this trip also and he blames me for the idea, but it was really Brian Dipert (who had invited me along on a trip to Mount Whitney two years ago) who should get the blame. Brian has done some other mountains, most notably Mount Kilimanjaro (19,000 feet) and Mount Shasta (slightly less lofty than Rainier). He and his friend Sherlock were also on this same trip, as was an engineer named Ralph who works for Bjorn.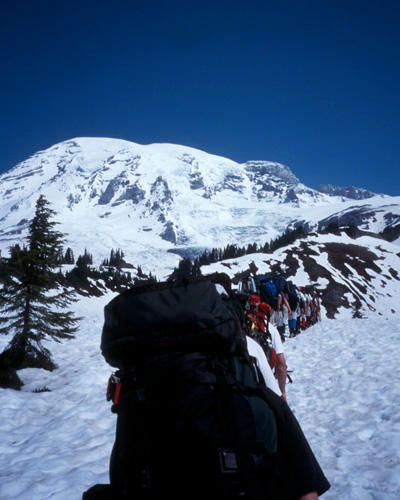 Heading up for climbing class, June 29
On Friday the five of us were part of a group of 24 Rainier hopefuls attending a preparatory class in mountaineering basics. We practiced self-arrest techniques -- how to use an ice axe to stop ourselves and to save others from sliding down the hill -- as well as basic rope team work, efficient walking and breathing techniques and the use of crampons. Our instructors for these sessions were Wim Whittaker (son of Lou Whittaker) and a young guide named Suzanne, who was to be one of the guides on our summit try the following day. Also along and giving advice was a highly experienced Sherpa friend of Whittaker's (whose name I've forgotten) who had useful and inspiring comments like, "I was born and grew up at fourteen thousand feet, but still every time I climb this mountain it kicks my ass."
(Brian Dipert informed me later that the Sherpa's name is Phursuba 'John' Sherpa. He is from Darjeeling, India but apparently lives now in Lukla, Nepal.)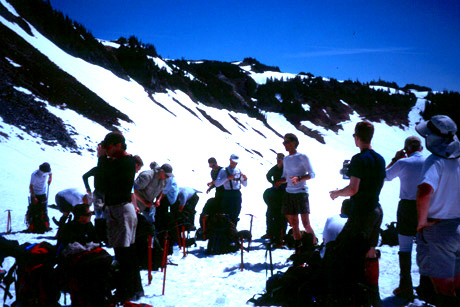 Climbing class, June 29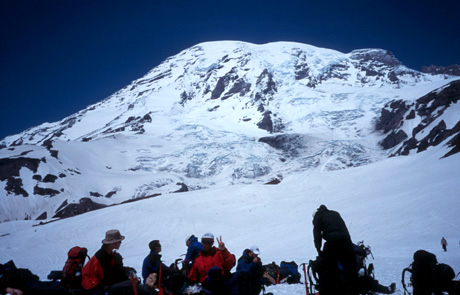 Climbing class, June 29
After spending the night at Whittaker's Bunkhouse in Ashford we started the climb on Saturday by taking our packs and hiking four miles (and 4500 feet up) through the snow from Paradise to Camp Muir, at an elevation of just over 10,000 feet. This in itself is a long slog, and as a group we took over five hours to get there. At Camp Muir we were provided with a shelter to sleep in (all of us crammed in one space, on shelf-like structures that could not really be called bunks) and were provided with hot water to prepare our own drinks and dinners. (This is a luxury only available to those who travel with RMI... other climbers pitched their tents in the snow nearby, and most were probably sneering at us while secretly being envious.)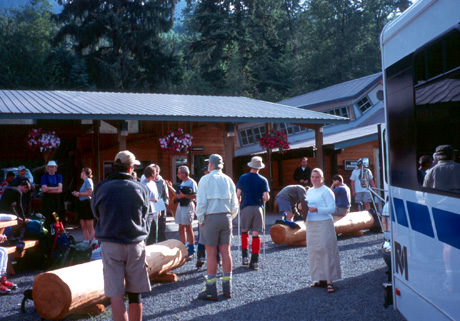 Checking in for the climb, June 30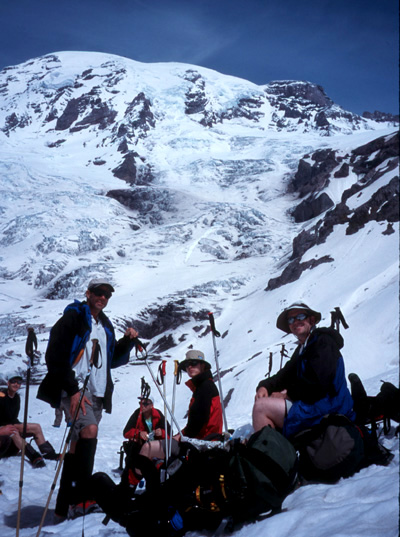 A rest break on the way up to Camp Muir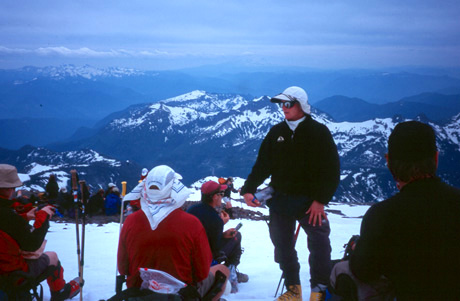 Mark Tucker (standing)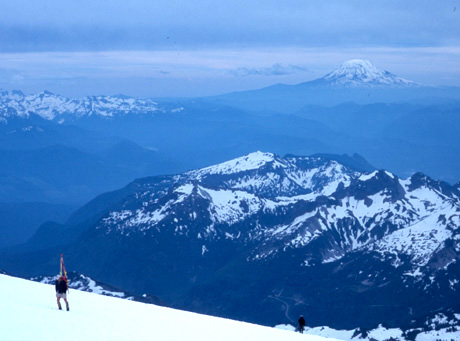 Looking south from Camp Muir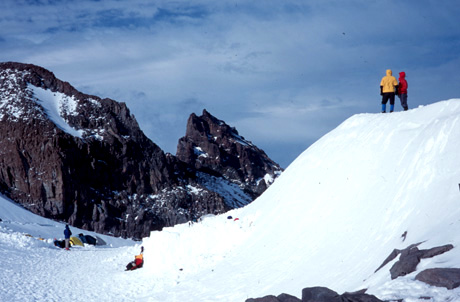 Looking east (toward our route) from Camp Muir
At Camp Muir we were also given a lecture about what to expect the coming day. The guides would assess the conditions (which had been perfect the previous day, warm and clear) and wake us up at an appropriate time, most probably around midnight. We were in our sleeping bags by 7:00PM. Judging from the snores (never mind the earplugs I had brought) some people actually got a little sleep; personally I don't think that I slept for more than a few minutes. Sometime around 9:30PM I crept out to use the outhouse, and took a few pictures of the sunset while I was at it.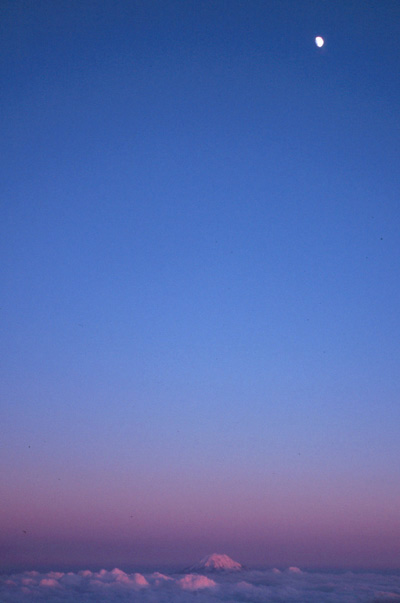 Mount Adams and a half moon, from Camp Muir
After the guides (led by the highly experienced and drill sergeant-like Mark Tucker, or "Tuck") banged on the door and roused us, we spent about an hour eating breakfast, putting on our harnesses and avalanche beacons and preparing our summit packs. A few people (all of them members of a group of Texans that had come on some kind of church-related retreat) decided to abandon the climb due to altitude sickness, or perhaps due to not realizing until the previous day's climb just what they had gotten themselves into.
It was sometime around 1:30 AM (I'm really not sure what time, I didn't take my watch) when we departed Camp Muir and traversed up and across the Cowlitz Glacier. There was a haze of high clouds through which an almost-setting moon was glowing. The stars were mostly obscured, but up on the mountain we could see the lights of other climbing teams as they made their way up after an earlier start.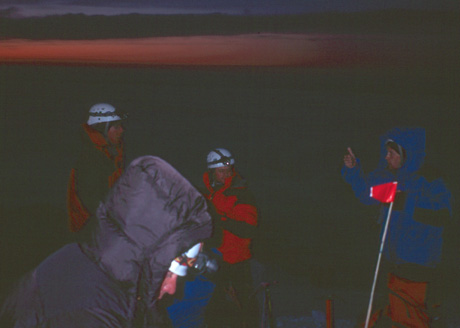 The first rest stop, at Ingraham Flats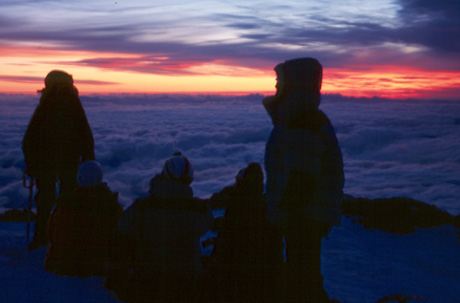 Above Disappointment Cleaver, shortly before sunrise
Going up the mountain was long and grueling. I've heard it compared to a marathon: it requires a certain amount of physical fitness but beyond that it's a matter of persistence, a willingness to endure intense discomfort for hours on end. For most of the climb my eyes were aimed at the snow directly ahead of me, in the circle of light from my lamp, so I could see where to step. Any slip or mistep -- and there were many -- would take precious energy, and I was afraid that if I stepped on the rope with my crampons then somebody (Tuck or one of the other guides) would scream at me. It took far more concentration than I expected.
But every once in a while we took a break (the drill was to stop, immediately take off the pack and throw it on the snow with the straps upward, put on the down parka to conserve body heat, then sit on the pack while eating a snack and drinking some water) when we could stop and look around. For me, the most breathtaking view was from above Disappointment Cleaver about an hour before sunrise. The high clouds had evaporated and above us were stars, crisp and bright. On the ragged slope of Emmons Glacier above us and to the west, four or five small constellations of lights -- other rope teams with their headlamps -- moved slowly up, showing the route we would be following. To the east the sky was starting to get a red-orange glow. A bit later, when the sun came up and we were higher on the mountain, Mount Adams to the south and Glacier Peak to the north were bathed in a morning glow. All the crinkles and crenelations of the mountains were exposed by the long shadows of morning.
As we climbed, the number of people in our group slowly dwindled. Bjorn was the first to go, after realizing at Ingraham Flats that the pace was going to be too fast. The guides set him up in a comfortable spot, where he waited in a bivuac bag and enjoyed the stars until a group of others came down down and picked him up. (He said later that he and the others had a fine day at Camp Muir and were given a closeup tour -- roped up for safety -- of the nearby crevasses.)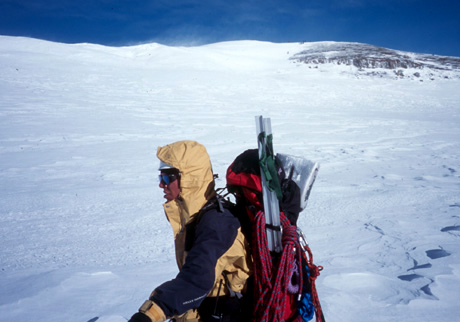 "Cosmo" (aka Chris, RMI Guide) leading up Emmons Glacier
I became absorbed in my own progress and lost track of when the others quit the climb. I do recall a pivotal moment when Brian and a few others decided to turn back, however. We were somewhere above 13,000 feet and the wind had been picking up dramatically. In the gusts it was becoming difficult to maintain footing on the steep snow and the freezing wind blew ice crystals directly into our faces. Tuck was getting concerned and told us he was considering turning the entire group around and retreating, quitting the climb. Other (non-RMI) teams were doing the same and were passing us on their descent. After some discussion on his radio, Tuck made the announcement that we could continue, but only if we were prepared to give "150 percent effort". There would be no more rest breaks, and upon reaching the summit we would stop only long enough for a quick snack and a drink before heading back down. He was the perfect parody of a snarling baseball coach, but he seemed dead serious. ("Anybody can climb this mountain on a good day. This is not a good day, the wind is screaming up there and most teams are turning around. You have to be an animal to keep going. One mistake, if one guy gets tired or slows down then we all have to turn around...")
I heard Brian Dipert say he was going to stop and I mumbled something about quitting here as well (in addition to Brian, who was on a different rope, the other two clients on my rope were also giving up). But Gerrit, our rope leader (there were two guides on each rope, along with three clients) told me, "No, keep going, you're climbing strong". I unclipped from Gerrit's rope, which would descend, and was put onto Tuck's rope, which would continue up along with two other ropes, one of which was fifteen minutes behind us.
And up we went, at a faster pace than before. As we climbed the wind increased and my face was getting ice-blasted. The others on the rope had thought to wear neck warmers or balaclavas that they could put over their faces, but my face protection (a neck fleece) was still somewhere in my backpack. At some point Tuck looked back (I was number three on the rope) and saw that my face was exposed. He motioned for me to pull my jacket hood on under my climbing helmet and cinch it up tight. This required a bit of trickery as I could not put anything down (on the 40 degree slope of ice and in the blasting wind) and had to remove my gloves and the helmet first. But I got my hood on and snugged it around my face (my nose got cold, but by breathing out from it I could keep it warm enough), got the helmet and gloves back on and gave a thumbs-up. An hour or so later we made the summit, crossed over the rim and entered the crater. There was nobody else there when we arrived, which is apparently quite unusual -- there is said to be quite a crowd up there on fine summer mornings. The wind was slightly diminished in the crater and we sat for fifteen minutes eating lunch before going back down. There was no time to explore, and little time for picture-taking. It was only at the top, when packs were dropped and faces uncovered, that I saw that Ralph and Sherlock had both made it up.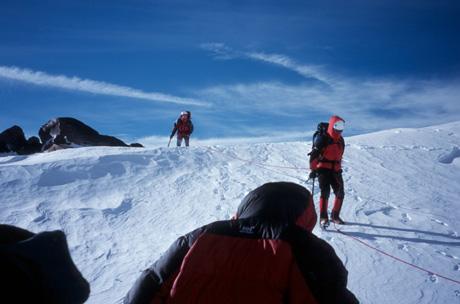 Entering the crater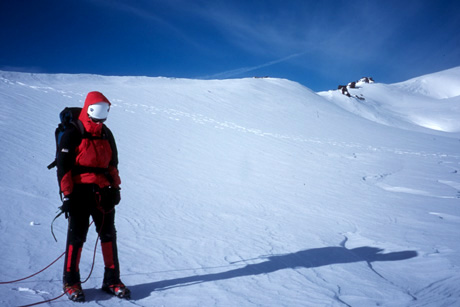 I think this was Ralph... but who can tell?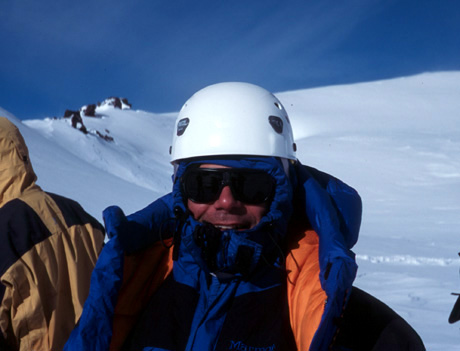 In the crater
The trip down was, in some respects, more difficult than the trip up. We were more likely to slip, more likely to step on the rope, more likely to be tired and fall. The sun was warming the snow and it was becoming sticky; we had to bang our crampons with our ice axes at every second step to clear off the snow ("crunch, crunch, crunch, clang!, crunch, crunch, crunch, clang!..."). And we had twice the distance to cover: after hiking back down the Camp Muir (a three hour descent) we packed up our remaining gear and headed down to Paradise, a long and boring slog through the increasingly slushy snowfields.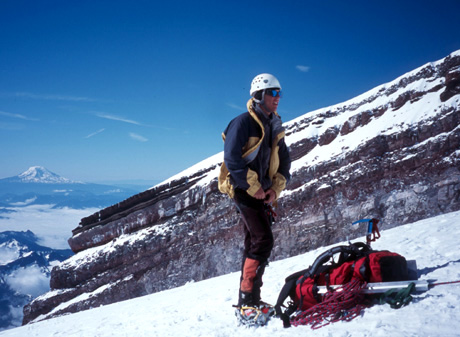 Gerrit (RMI guide)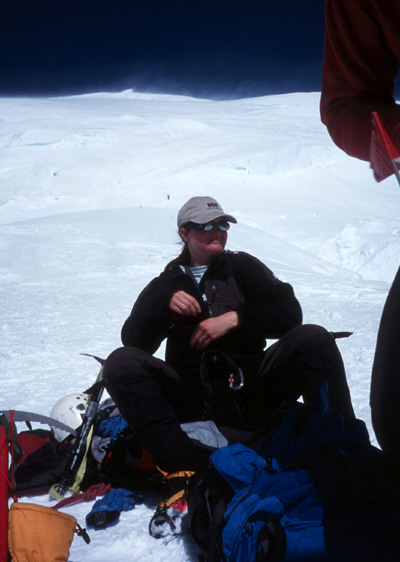 Lisa (RMI guide)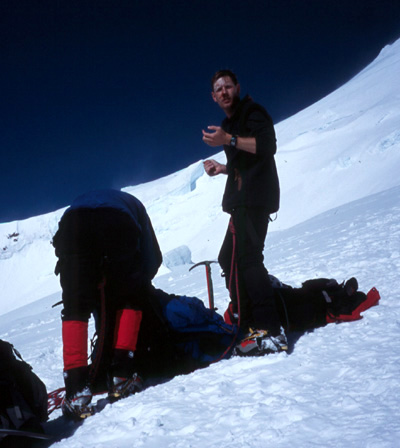 Sherlock (with an altitude-induced nosebleed)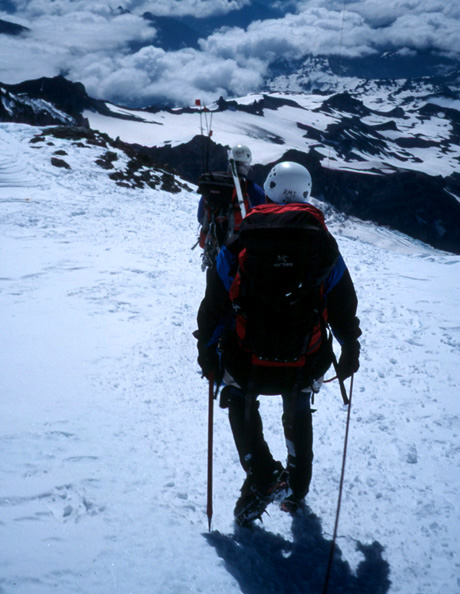 Some scenery we missed in the dark coming up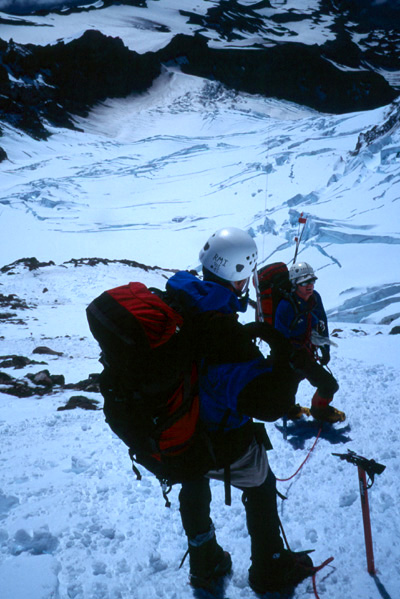 Descending the Cleaver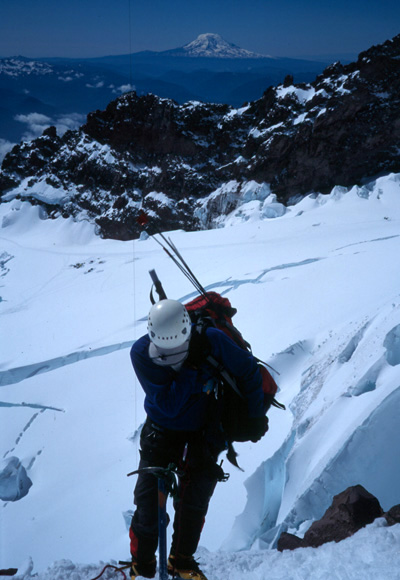 Mark Tucker (the masked man)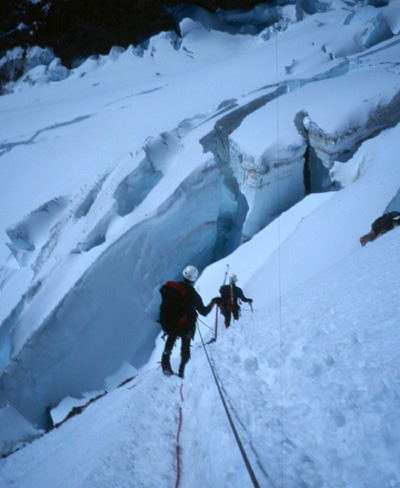 Yikes! Just as well that we couldn't see this in the dark!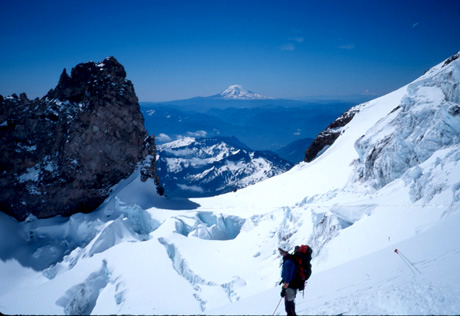 Mount Adams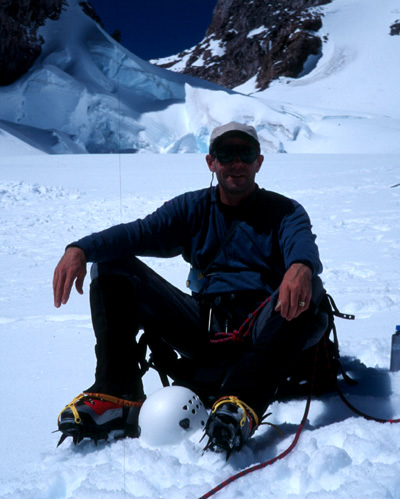 Rest break, Ingraham Flats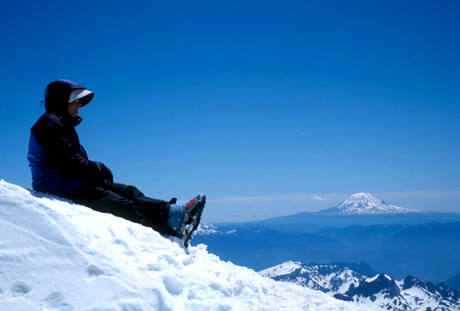 Bjorn at Camp Muir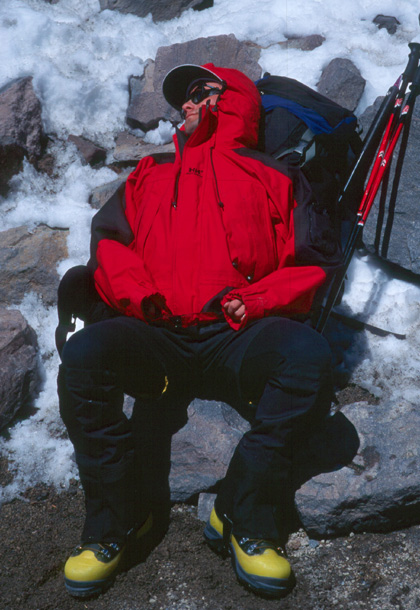 Brian at Camp Muir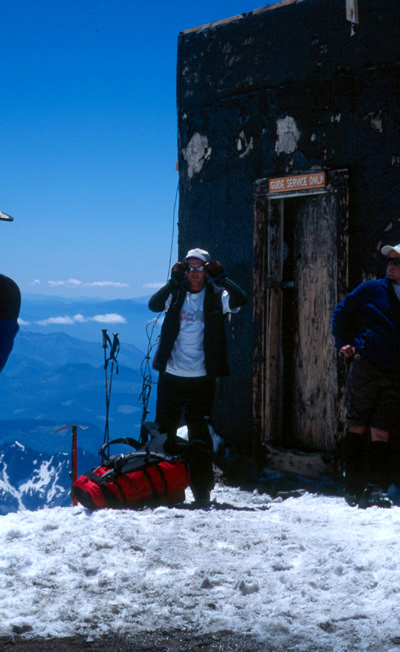 Shirlock at Camp Muir (that was our shelter the previous night)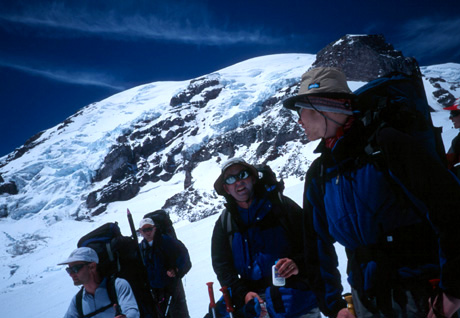 Returning to Paradise in the early afternoon
In summary, the experience was grueling and sometimes painful, but I never really felt like I was getting close to a physical limit, which was gratifying. And the experience of being on the mountain, in the dead of night, watching the lights of the other teams and knowing we would be going there too... that was magnificent.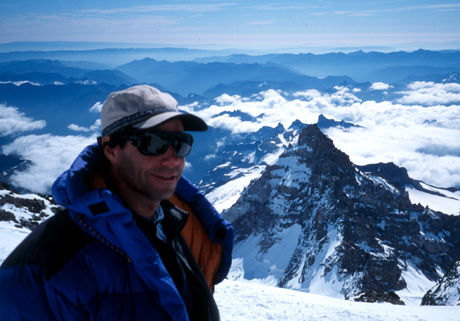 On the mountain after a successful climb